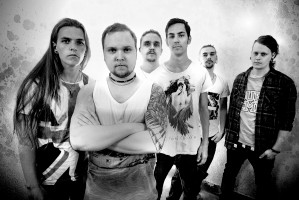 Beneath My Feet – Biography
Beneath My Feet is a metalcore band from Luleå, Sweden a northern town where the polar bears rome and the weather is a pain in the ass. The band consists of six members Marcus J Garbom (vocals), Sebastian Kågström (vocals), Adam Lindberg (guitar/vocals), Anton Gustafsson(guitar) Mattias Lindblom (bass), Axel Moe (drums).
Beneath My Feet released their debut 6-track EP in 2011, where they collaborated with singer Richard Sjunnesson from The Unguided (former singer in Sonic Syndicate) on the EP title track Wake Up, Stand Up. During 2012 the band changed their line-up as one of the singers (Kristoffer Lindvall) needed to move for studies. This is the time Sebastian Kågström joined among with the new guitarist and singer Adam Lindberg.
During 2013 BMF has released two singles featuring the new members, End of Corruption and The Color of a Thousand Sunsets.
26/3 -2014 They released their first full length album called Origins which features both singles and nine more songs. An album with songs about death, love, revenge and corruption. The album took them on a European tour with the band Dead By April and a festival summer in Sweden.
Now they are back in the studio working, ready to take Swedish metalcore on step further.